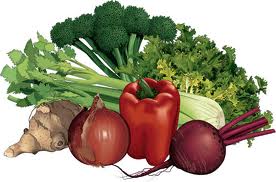 It is easier than ever to find gluten free substitutes for many products at most grocery stores.  Unfortunately for parents of children on a gluten free diet, gluten free is not automatically healthy – refined sugar, empty calories and processed ingredients still equal junk food whether or not the ingredient list also contains gluten.  Getting children to "eat healthy" is a difficult task, especially when it comes to vegetables.
Our son Alex is a notoriously picky eater, and it's always a big deal when we get him to eat a new food, especially when it's a vegetable.   The following are some of the recipes we have used that successfully introduced new veggies into his "repertoire."  You can use these recipes or adapt them to the tastes of your own children and hopefully one or more of them will be well received.
Carrots:
Carrots are full of vitamin A, dietary fiber, antioxidants, and minerals.  Plus they are not green which makes them more acceptable to many children.  My wife got our son to accept carrots on a fairly regular basis by explaining the recipe to him (it has honey!  And cinnamon!), letting him partake in the preparation, and naming the recipe "Alex's Carrots", which all helped to give him some ownership in the recipe and more acceptable.
Alex's Carrots
2 Cups carrots (pre-cut baby carrots or whole carrots, peeled and cut in 1 inch chunks)
1 or 2 Tablespoons honey
1 Tablespoon cinnamon
salt and pepper
oil
butter
Place the carrots in a bowl and toss with honey, cinnamon, salt, pepper and a little bit of oil.  Saute over medium heat until paring knife slides easily through carrots.  Finish by tossing with a pat of butter.  Optionally, you can place carrots on a baking sheet lined with foil and sprayed or rubbed with oil, and cook in a preheated 350 degree oven for 30 minutes.
Spinach:
Spinach has a high nutritional value and is extremely rich in antioxidants, especially when fresh, steamed, or quickly boiled. It is a rich source of vitamins A, C, B6 and B12, vitamin K, and many minerals.  For kids, it is a notoriously "icky" vegetable, but by calling this recipe a "pie" we got Alex to try it, and the bacon and melted cheese on top has kept him coming back for more.
For the crust, you can use your own gluten free recipe for pie crust or use the 8-inch variety sold by kinnikinnick (and available in the frozen foods section of many grocery stores).
1 8-inch pie crust
8 oz frozen spinach
2 strips cooked bacon
5 eggs (4 is sometimes enough, do not overfill!)
2 oz milk or milk substitute
½ cup shredded cheese or cheese substitute
Preheat oven to 350.  Bake empty crust for 10 minutes until just firm.  Crumble bacon and place in pie crust.  Chop spinach and place on top of bacon.  Beat eggs with milk and pour into crust, covering spinach and bacon, until just below top of crust (it will rise slightly).  Bake in 350 oven until just set, about 20 minutes, Sprinkle cheese generously over the top, and broil until cheese melts and is just beginning to brown.
This recipe also works excellently with broccoli.
Broccoli:
Broccoli contains Vitamin C, dietary fiber, and several antioxidants.  We are lucky in that Alex has always been willing to eat a little bit of broccoli when it is served.   I find the simplest and most flavorful preparation is to roast the broccoli with just a little bit of oil, salt and pepper.
Roasted Broccoli
2 cups broccoli
olive oil
salt and pepper
Preheat oven to 425.  Toss broccoli in a bowl with olive oil to coat.  Arrange in single layer on baking sheet lined with foil and sprayed or rubbed with a little bit of oil.  Sprinkle with salt and pepper, to taste.  Bake at 425 until tender and beginning to brown, about 30 minute.
Sweet Potatoes:
Sweet potatoes are rich in complex carbohydrates, dietary fiber, beta-carotene,vitamin C, vitamin B6, manganese and potassium.  I adapted this recipe from one I found in Bon Appetit magazine.  Kids seem to like the square shape of the potatoes, and you can gussy up the recipe by alternating white and sweet potatoes and/or slipping some basil leaves between the squares.
Domino Sweet Potatoes
4 large sweet potatoes (preferably cyclindrical in shape)
Olive oil
Salt and pepper
Preheat oven to 425.  Cut the rounded sides off of the potatoes with a chef's knife to leave a long square or rectangular cylinder (There will be quite a bit of waste here, but hey, these are potatoes).  Using a mandolin or sharp paring knife, slice the squared potatoes into ¼ inch slices.  Arrange the slices on a baking sheet, lined with foil and sprayed or rubbed with oil, so that the pieces overlap by about two-thirds of each slice.  Drizzle with olive oil, sprinkle with salt and pepper, and bake until tender and beginning to brown on the edges, about 35 minutes.